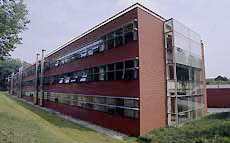 The conference will be held at the IPCMS (Institut de Physique et Chimie des Matériaux de Strasbourg) on the CNRS campus in Strasbourg-Cronenbourg.
Address:

23 Rue du Loess
Building 69 (IPCMS)

67034
STRASBOURG
France
Conference site on google maps
HOW TO GET THERE

By plane
the most convenient international airports are Paris CDG and Frankfurt FRA.
From Paris (CDG) take the TGV train to Strasbourg. There are direct trains from CDG, otherwise you may take the RER train to Paris centre. From the train station Paris Gare de l'Est, direct TGV trains are leaving approx. every hour with destination Strasbourg.

From Frankfurt (FRA) in Germany, take the ICE train via Mannheim or Karlsruhe. TGV trains are leaving Karlsruhe with destination Strasbourg. Alternatively, you may take an ICE train to Offenburg from where local trains are leaving fequently with destination Strasbourg.

From Strasbourg Airport (SXB)

If you are arrinving at Strasbourg Airport (mostly domestic and a few European flights), take the shuttle train, which takes you to Strasbourg central train station in 9 minutes.
By train

Strasbourg has a train station allowing you to arrive by TGV, ICE etc.

Within Strasbourg (tram and bus)

Depending on where your accomodation is located, take a tram to the central railway station, then take the bus G.
Bus G :
If you leave the train station (glass hall), go a little to the left and cross the street. Here you find the stop of bus G, direction "Espace Europeen de l'Entreprise". Get a ticket from the ticket machine on the platform and validate the ticket at one of the little ticket stampers before entering the bus. There is a bus every 5-10 minutes. After approx. 8 minutes (6th stop) leave at exit "Arago".
Walk 50 m in the direction the bus drives (see map). You will reach the fence around the campus. Take gate 2 (if open), otherwise continue ~300 m to the left around the campus to get to the main entrance.
The IPCMS is the long red building just on the right hand side of gate 2. The entrance is on the right end (towards the fence).
Important: the Emergency Rule is still effective in France. The campus has restricted access and is under supervision. There is luggage inspection for every visitor at the entrance gates.

Gate 2 (easy access to the conference site) is only open from 8h to 9h30 and from 17h to 19h. If you arrive or leave in the period 9h30 - 17h, you will have to make the detour via Gate 1 (10 min walking).

Campus map